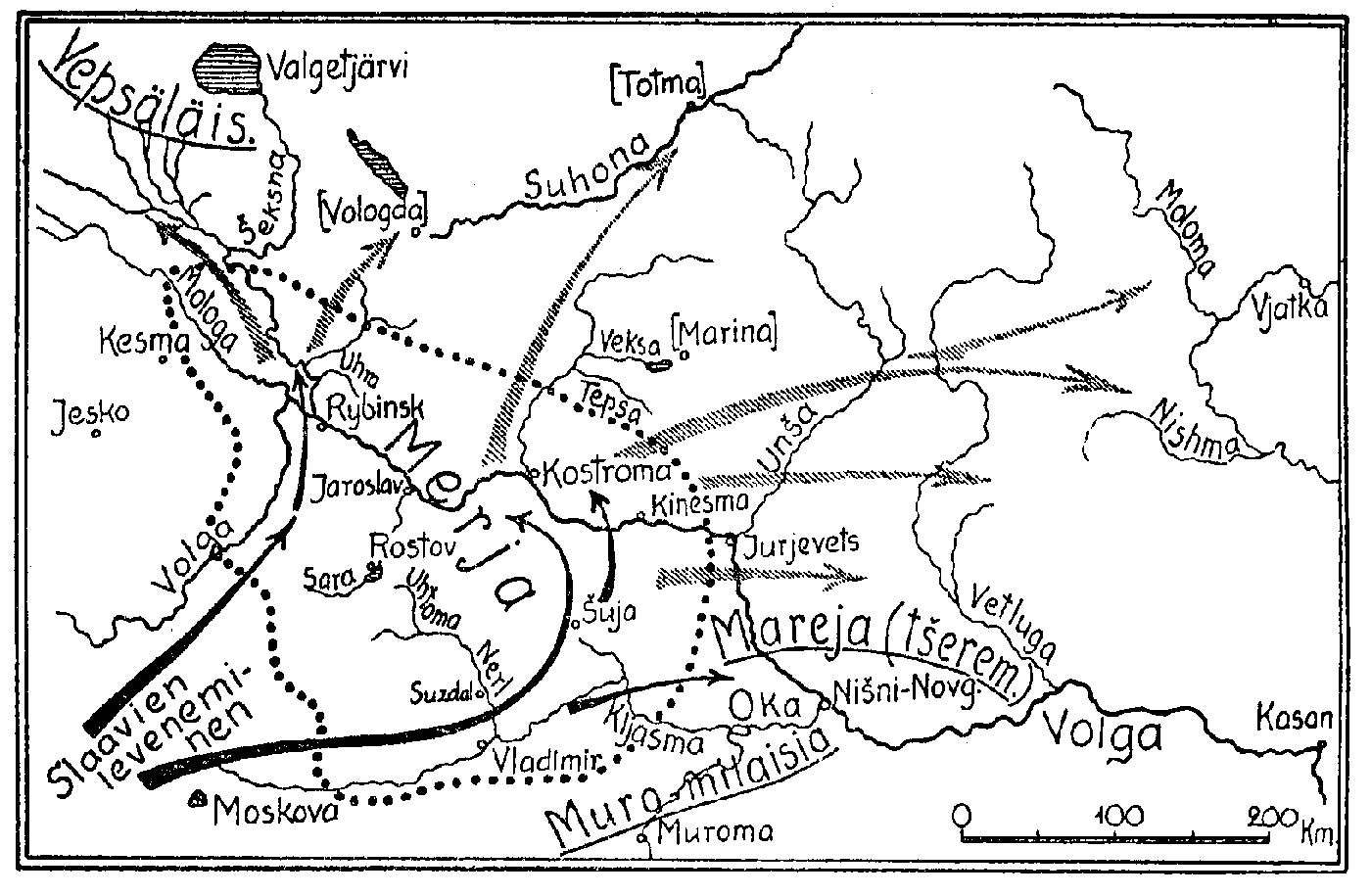 Merja people

Ancient extinct language relatives of the Finns.




Before the Slavic conquests just before the year 1000 AD, central Russia was inhabited by the Merja, a Finnic people. Near present day Jaroslavl areas of Rostov and Pereslavl, there are large lakes, Nero and Plescheevo, which are mentioned in ancient Russian chronicles as the Merja's lands. Also archeology confirms that these areas are the center of Merja culture.

They left a legacy behind them that is still present in the region even though they were killed, absorbed or dispersed. Especially important is their contribution to the place-names of this area, and a linguistic substratum that has different layers.

How do we find these ancient Finno-Ugric traces?

From a linguistic and historical standpoint, there have already been several generations of investigators into the local Finno-Ugric substratum in central Russia and also the Jaroslavl area. They have investigated the archives and have found many place-names and even actual people.

Research by the Finno-Ugric department of the University of Helsinki is continuing in the field searching archives. The raw data is transported back to the University of Helsinki Finno-Ugric department for analysis. The goal is to chart as geographically and systematically as possible, the non-slavic, Finno-Ugric substratum, with the aim of using comparison data from the past and present for as definitive description as possible. What were some of the names of these people? What did they call their villages, lakes, rivers and other topography? Perhaps this will also shed some light on even earlier occupants of the land. This research is proceeding with an involvement by archeologists as well as linguists and historians. Their areas of investigation includes oral tradition, religious, and folklore studies.

What happened to the people? Assimilation is just one possibility, but it should be noted that previous researchers have shown that they also were displaced in different directions as the map shows. Assimilation of Merja would have been done by other Finno-Ugric people as well, such as the Mari and Karelians. Loss of language is tied to the Orthodox church, while retention of language is associated with the Lutheran church.

This central Russian work is so complicated that several generations are required to do it. The most important goal at this time is to organize the work into a systematic unit.